BIOGRAPHY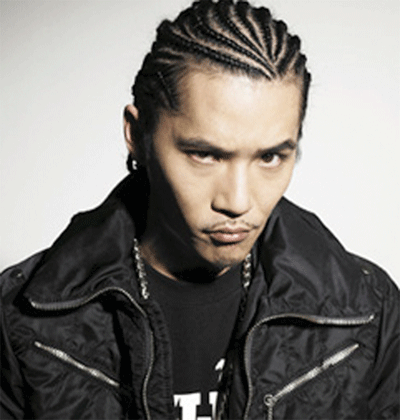 Born Hideyuki Yokoi on April 2nd, 1971 Zeebra is one of the founding member of Japan's seminal hip hop group King Giddra, Zeebra was part of the force in Japanese hip hop turning from the party-rap promoted within the usual confines of J-Pop into a socially conscious version of the genre. Building upon a foundation of Public Enemy, King Giddra used rap as a platform for social commentary and built a massive following. By 1997, Zeebra had left the group (to return briefly for a new album in 2002) in favor of a solo career. Furthering the fame accorded as a result of King Giddra's popularity, Zeebra expanded his style into wider territories. Quickly becoming the brightest star in the emerging market, Zeebra released Mr. Dynamite in 1999, the first hip hop single to break the top 50 on the Japanese pop charts. Concurrently, the Zeebra brand expanded into television with Beats to Rhyme, the first show devoted to hip hop in the country, into fashion, into advertising, and into movie soundtracks. A number of albums were released as Zeebra's star grew, starting with 1998's The Rhyme Animal and reaching major success with 2000's Based on a True Story. 2008's Bushido quickly reached the top 10 on the Japanese pop charts, as Zeebra expanded into collaborations with American artists and producers (working with Scott Storch and Swizz Beatz) and production of other Japanese rappers as well as J-Pop artists (mirroring to a degree the absorption of hip hop aesthetics into pop music taking place in America concurrently).
DISCOGRAPHY
Albums
[1998.06.17] The Rhyme Animal
[2000.06.14] Based on a True Story
[2002.05.29] The First Struggle
[2003.09.18] Tokyo's Finest
[2006.02.15] The New Beginning
[2007.10.17] World of Music
[1997.07.25] "Mappiruma"
[1998.12.16] "The Rhyme Animal Remix E.P.1"
[1999.02.24] "The Rhyme Animal Remix E.P.2"
[2000.03.23] "Mr. Dynamite"
[2001.01.25] "Neva Enuff" feat. Aktion
[2001.08.08] "Baby Girl"
[2003.01.22] "Big Big Money" feat. Hiro
[2003.04.23] "Supatech (What's My Name)"
[2003.07.30] "Perfect Queen"
[2005.06.01] "Street Dreams"
[2005.09.21] "Oh Yeah"
[2006.12.06] "Stop Playin' A Wall"
[2007.07.18] "My People" feat. Miliyah Kato
[2007.09.19] "Not Your Boyfriend" feat. Jesse (RIZE)
[2008.03.05] "Bushido"
External Links