Buddha Brand (ブッダ・ブランド Budda Burando) is a Japanese hip hop group consisting of rapper and producer Dev Large, rapper NIPPS, CQ, and DJ Master Key.

The four members of Buddha Brand met in New York City in 1988 and performed under several names (Uwasa no Channeru, Numb Brain Buddha Brand) before settling on the name Buddha Brand in 1990. During this period, Dev Large and DJ Master Key were regular DJs at several clubs in Brooklyn, including Gorilla's Den and Soul Powers.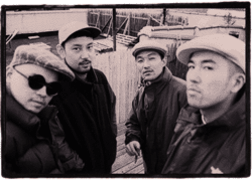 Discography
Edit
Singles
人間発電所 プロローグ(1996年5月22日) - 2003年12月3日再発売。
黒船(1996年12月4日)
ブッダの休日(1997年4月23日)
天運我に有り(撃つ用意)(1997年11月12日) - 2003年12月3日再発売。
TOP OF TOKYO/TT2 オワリのうた- ILLMATIC BUDDHA MC'S / スチャダラパー(2006年11月29日)
Albums
DON'T TEST DA MASTER(2000年1月26日) - ミニアルバム
病める無限のブッダの世界 ~BEST OF THE BEST(金字塔)~(2000年3月15日) - 2枚組ベストアルバム
DEV LARGE プレゼンツ:病める無限のラップの世界(2003年12月3日) - ベストアルバムの再編集盤。
DEV LARGE プレゼンツ:病める無限のインストの世界(2003年12月3日) - ベストアルバムの再編集盤。
Ad blocker interference detected!
Wikia is a free-to-use site that makes money from advertising. We have a modified experience for viewers using ad blockers

Wikia is not accessible if you've made further modifications. Remove the custom ad blocker rule(s) and the page will load as expected.